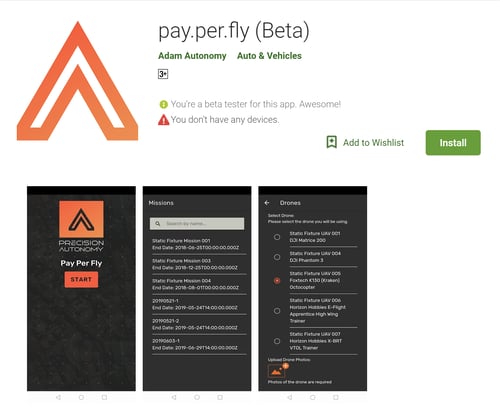 This week we released our pay.per.fly android application. Along with our Apple application, the new android app is simple to use and even simpler to improve! Keep a close eye out for some updates on the app we will be rolling out gradually in the coming months.
If there is something you'd like to see, please also feel free to drop by our idea's page and let us know.
Along with our new application, we have also upgraded the following:
Enhanced operational monitoring of our cloud environment and databases for reliability.
Improved security monitoring of our cloud environment including configuration validation, data loss protection, and vulnerability assessment.
Fixed issue preventing the adding of a mission when the address was a suburb (as opposed to a specific address).
Insurance questions on the add asset page now hidden for customers who don't need or want insurance.
Fixed issue where newly invited users weren't able to save their details.
If you'd like to learn more, please head to www.precision-autonomy.com or email support@precision-autonomy.com.